France project
Over the years, Dwelli has contributed to many projects around the world. In the 2018, he has contributed to the realization of a project in France, precisely in Paris.

PLACE: Francia
YEAR: 2018
INTERVENTION: Building a bathroom for a private residence
The living room and the kitchen offer a flooring with large slabs FMG MaxFine marble effect, collection white lasa format 3 x 1,5. The Maxfine is a technical ceramic with extra-large formatsand thin thickness, with the characteristics of porcelain. These slabs present many benefits : the anti-pollutant efficacy, bacterial efficacy, self-cleaning efficacy, anti-odor efficacy. These slabs combine the perfection of shapes with the maximum functionality.
The best part of this project is the bathroom. The Flooring offers slabs Flaviker Supreme Wide 60x120, Noir Laurent Lux+. The Finish Lux+ is able to increase the gloss level of the surface up to over 100 points of Gloss. In this series, the classicism of marble coincides the modernity of the large format.
On the walls is present the Mutina Dechirer coating. The Patricia Urquiola collection is developed on a big innvation in the range of ceramic coatings: having obtained, for the first time, a relief that is barely perceptible and can be used both in floor and wall coverings.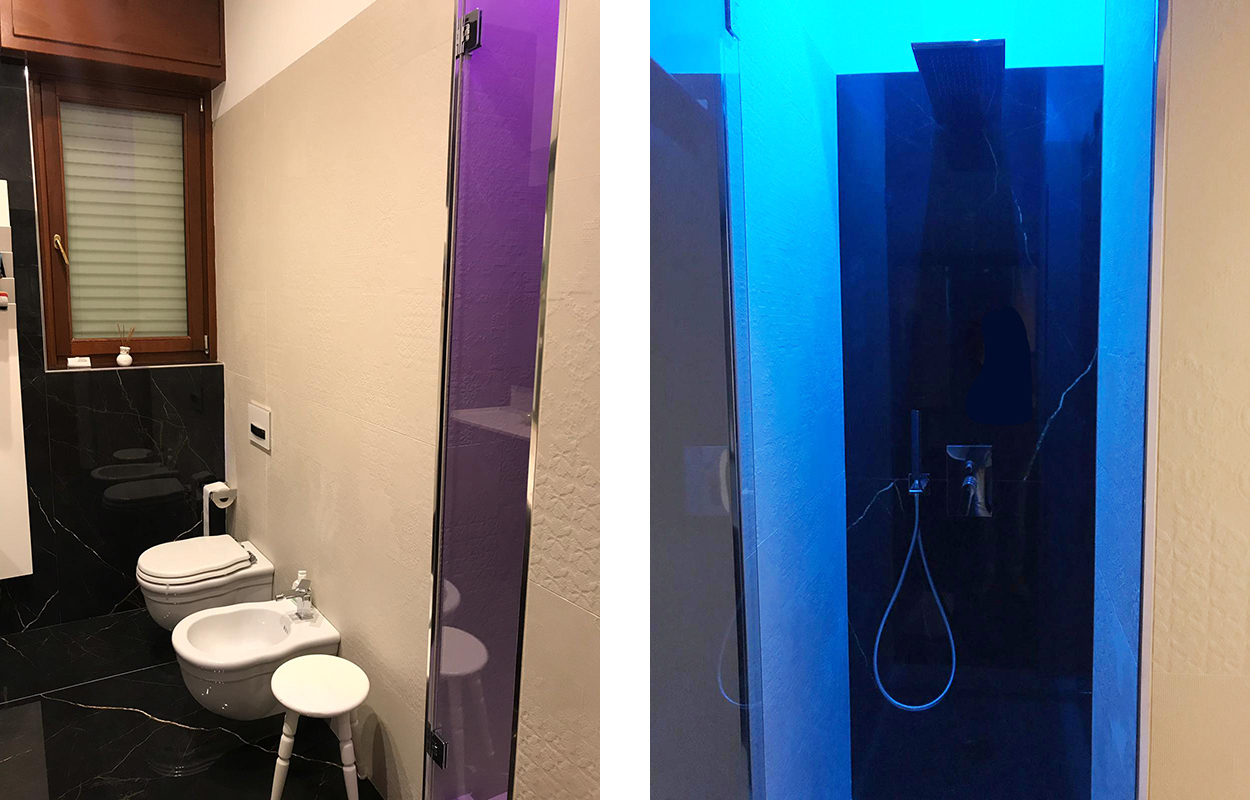 For the sanitary the choice has fallen on the Artceram Hermitage floorstanding sanitary and on the Geberit plaque. For the well-being and ergonomics of our client, we have chosen
the use of a Gessi Multifunction showerhead for the shower space. The Showerhead has a chromotherapy system: the chromotherapy is a catalyst to stimulate the healing processes of the organism. The Light, influences the moods and represents a kind of alarm clock inserted in the organism. This therapeutic method exploits the the chromatic vibrations to reinstate an altered energy balance. An Antrax radiator was used to heat up the room, leading company in the production of heaters for the environment.